Corporate info
Corporate Philosophy
In the last one hundred and forty years in accordance with our beliefs "Tradition is not maintained but built" we have made tremendous progress prudently and daringly.
We've had a tense time in our long history but thanks to our great staff, we've managed to overcome many difficulties. The great staff are just one thing that is a valuable asset to our company and we're proud that we continue to employ such people.
The most important thing for vessel operations is well trained staff. Through great endeavor we foster and educate our own crews over a long time, ensuring the safety of operations by support from the shore staff who are rich in experience and knowledge.
Everyone continues to devote their time and effort with frontier spirit and enthusiasm and without content to improve our situation.
Moreover we grapple positively with environmental problems and strive to pass a healthy, natural environment to the next generation.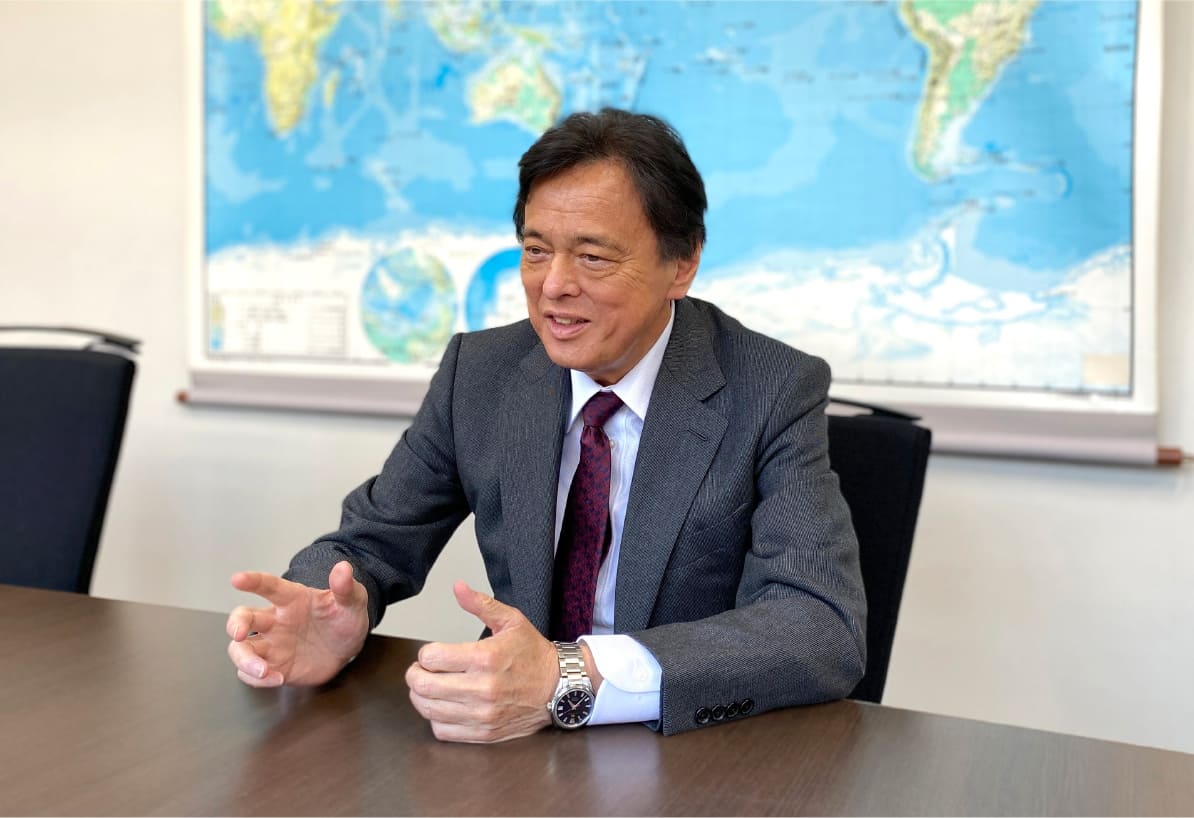 President, CEOToshiyuki Seno
Corporate Overview
Company name

FUKUJIN KISEN CO., LTD.

Capital

45 million yen

Foundation

1875

Establishment

July 16, 1956

Address

<Head office>
2-8-55 KitaHiyoshi-cho, Imabari, Ehime 794-0054, Japan
Tel. +81-898-34-7711 
Fax. +81-898-34-7733 
Email: gyoumu@fjline.co.jp 
Website: https://fukujin-kisen.com/

<Tokyo office>
Urban Shimbashi Building 4-5-1 Shimbashi, Minato-ku, Tokyo 105-0004, Japan
Tel.+81-3-5733-3731 Fax.+81-3-5733-3732

<Busan office>
7F, CITY BNP BLDG, 154, Jungang-daero, Jung-gu, Busan, Korea
Tel.+82-51-465-2537 FAX.+82-51-465-2545

<Shanghai office>
Room2B,Apollo Bldg,No.1440,Yan An Road (C).Shanghai200040,China
Tel.+86-21-62489736 Fax.+86-21-62490021

<Manila office>
2079 Madre Ignacia St., Malate, Manila Philippines
Tel.+63-2-8526-0636 Fax.+63-2-8521-9929

The member of board

Toshiyuki Seno

President

Yoshihiko Fujisawa

Director

Naoto Seno

Director

Officers

Toshiyuki Seno

CEO

Masafumi Shinohara

Senior Managing Executive Officer

Yoshihiko Fujisawa

Senior Managing Executive Officer

Naoto Seno

Managing Executive Officer

An Seungil

Executive Officer

Takuzo Okada

Executive Officer

Employees

Shore staff: 66
Seafarer: 1150(As of April 2022)

Services

Ship Owning Ship management Chartering Ship agency Real estate

Banks

The Hiroshima Bank, Ltd. The Iyo Bank, Ltd. The Hyakujushi Bank, Ltd. Sumitomo Mitsui Trust Bank The Bank of Mitsubishi UFJ, Ltd. Mizuho Bank, Ltd.
Development Bank of Japan Inc. Shinsei Bank, Limited The Bank of Fukuoka, Ltd. Ehime Bank, Ltd.

Certifications acquired

Document of Compliance of the International Safety Management Code: October 1996 (ClassNK)
ISO 14001 Certification for Environmental Management Systems: February 2006
Innovation Endorsement Provider Certification (Class C) : March 2023 (ClassNK)
History
1875

Keiji Seno established a shipping business in Hagata Village (presently Namikata-cho, Imabari), Ehime.

1882

Rikichi Seno constructed a coastal ship "EBISU MARU"

1907

Riichi Seno succeeded to the family's business, which used to own two to three ships, while the trend in the shipping industry changed from the times of sailing ships to the times of motor-powered sailing vessels.

Riichi Seno

1919

"FUKUJIN MARU I" (D/W of 200 tons) was constructed at Koura Shipyard.

FUKUJIN MARU I

1949

Fusanosuke Seno succeeded to the family's business and engaged himself in the shipping business.

Fusanosuke Seno

1954

"SHIN FUKUJIN MARU" (377.90 gross tons and D/W of 585 tons) was purchased, and the steamship department was established.

1956

FUKUJIN KISEN CO., LTD. was established with a capital of three million yen.
The steel ship "NIKKI MARU" (375 gross tons and D/W of 580 tons) was purchased. The ship was later renamed "FUKUJIN MARU".

1959

The first new steel ship "SHIN FUKUJIN MARU" was constructed at Kurushima Dockyard.
(2nd class adjacent-sea ship with 496.70 gross tons, D/W of 807.00 tons, and 650 HP)

1962

All motor-powered sailing vessels were sold off in order to develop as a steamship company.
New capital: 45 million yen

1968

"TOYO FUKUJIN MARU" was constructed at Kurushima Dockyard.
(G/T 5,094.97 tons, D/W 8,337.00 tons, 5,000 HP Certified Ocean going Ship)

Launching ceremony of
"TOYO FUKUJIN MARU"

Sea Trial

1996

Document of Compliance of the International Safety
Management Code was acquired.

2001

Toshiyuki Seno assumed the post of President.
Fusanosuke Seno assumed the post of Chairman.

2004

The new office building was constructed in
KitaHiyoshi-cho, Imabari.

2006

ISO 14001 Certification for Environmental
Management Systems was acquired in April 2006.

2007

Container ship (99.214 PWT, 8,400 TEU)
was delivered.

8,400TEU Container

2010

VLOC (250,877DWT) was delivered.

VLOC

2016

New office built next to the former Head Office.
NB Japan Flag in-service.

New office (outside)

New office (inside)

Japan Flag Vessel

2023

Innovation Endorsement Provider Certification (Class C) was acquired by ClassNK
Organizational Chart